In this Conversation on Race, John Blake, senior writer, and producer at CNN talks about anti-racist white men who grew up in racist families. They were surrounded by racism in their environment and grew up in red states, yet they chose a different path. Listen in to hear some of the stories and find out the factors that influenced their thinking and actions.
We also talk about the epidemic and potential cures for the fear that many white people have about Black men in public spaces.
Key topics:
[5:11] How Matt Hawn, a white teacher in Tennessee became an anti-racist and then was fired for talking about racism to his students. Why white Pastor Gibson "Nibs" Stroupe from Arkansas founded a multi-cultural church in Decatur, Georgia, where he was an outspoken anti-racist.
[9:54] The gradual change from racist beliefs to anti-racism. How do some people get trapped by their own identity?
[11:21] White people need other white people who are anti-racist and have made a difference
[13:07] The transformational power of meeting people from a different race and building relationships
[16:35] The power of ordinary people to create change
[17:26] Why change often comes from pressure at the bottom
[18:33] The Epidemic of white fear of Black people in public spaces
[39:33] Internalizing stereotypes and internalized racism
[40:58] How John Blake let go of hostility towards white people after meeting his white mother.
[45:15] Creating spaces for people of different races and cultures to interact and change.
Guest Bio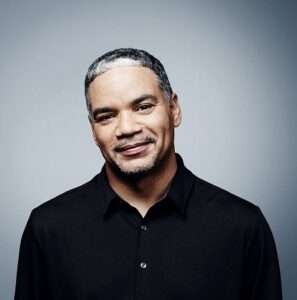 John Blake is an award-winning journalist at CNN.com, the online site for CNN and an author. He has been honored by the Associated Press, the Society of Professional Journalists, the American Academy of Religion, the National Association of Black Journalists, the Religion Communicators Council and with the GLAAD Media Award. He was most recently the winner of the 2019 Sigma Delta Chi awards for Excellence in Journalism for his online columns on race and politics. His 2020 essay, "There's One Epidemic We May Never Find a Cure For: Fear of Black Men in Public Spaces," was recently selected by Bustle Digital Group as one of the 11 best essays on racism and police violence. The other authors on that list included Ta-Nehisi Coates, Ibram X. Kendi, and Roxane Gay. Blake's book, "Children of the Movement," was a finalist for the 2005 NAACP Image Awards in the Outstanding Literary Work Non-Fiction category and a finalist for the Gustavus Myers Outstanding Book Awards. He has spoken at high schools, colleges, symposiums and in documentaries about topics such as race, religion and politics. Blake is a native of Baltimore, Maryland, and a graduate of Howard University.
Simma Lieberman, The Inclusionist helps leaders create inclusive cultures. She is a consultant, speaker and facilitator and the host of the podcast, "Everyday Conversations on Race for Everyday People."
Contact Simma@SimmaLieberman.com
Go to www.simmalieberman.com and www.raceconvo.com for more information
Simma is a member of and inspired by the global organization IAC (Inclusion Allies Coalition)