Janet Hamada- Japanese/Jewish Trauma
In this conversation on race, I'm joined by Janet Hamada, who shares her life as a biracial (Japanese and white Jewish) woman. Janet is the Executive Director of The Next Door, a social services organization in Hood River, Oregon that provides a wide range of support to families who need it.
Key topics:
How her father's family, fourth generation Japanese were taken from their home and incarcerated into a Japanese internment camp during World War Two. Because the US was a war with Japan, all Japanese people were rounded up from their homes, jobs and businesses and forced into these camps. It didn't matter how long they had been in the US, what they did for a living, how much they loved the US, they were viewed as potential threats. They were imprisoned for three years and then set free with only $25.00. Many of them lost everything.
Her mother's family were Jewish and originally from Eastern Europe. They left before the holocaust. Janet's husband is also Jewish and lost many relatives in the Nazi concentration camps.
Why Janet Hamada sees the last four years as history repeating itself and her fear that the US is going in the directions of Nazi Germany.
How her bi-racial identity, the experiences of her family and inherited trauma have impacted her personally and the work she does at The Next Door.
Janet's work at the border, and what she witnessed with refugees being denied entry and kids separated from parents.
Because of her last name and how she looks, people who didn't know she was Jewish would often say antisemitic remarks. She talks about how she speaks up.
Racism of who is allowed in the US and who is not
Racism, antisemitism and hate
How her organization, The Next Door has made a big difference in strengthening all types of families
Janet Hamada, M.S.W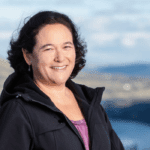 For nearly three decades, Janet has dedicated her efforts to improve the lives of her neighbors. A native of Chicago's South Side neighborhood, she brings to Meyer a long history of work in the nonprofit sector, particularly in the areas of administration, refugee resettlement, employment, community organizing, economic development, health promotion and services for youth. Her current professional and community activities include serving as executive director of The Next Door, Inc., a social service organization that strengthens children and families and improves communities in seven counties in the mid-Columbia region.
Janet serves as the current president of the Oregon Alliance of Children's Programs' board of directors, and as a member of the boards of directors of the Meyer Memorial Trust, Hood River Rotary Foundation and Four Rivers Early Learning Hub. In addition, she serves on the Building Bridges: Columbia Gorge Education and Workforce Collaborative and as a community advisory council member for Providence Hood River Memorial Hospital.
Janet earned her Bachelor's Degree in American Studies from Wesleyan University and her Masters in Social Work from the University of Washington.