In this episode I'm joined by AJ Cartas, a social influencer and founder of "Our Damn Time."
Our Damn Time is a political organization whose mission is to promote the well-being of people of color, women, and members of the LGBTQ+ community by providing resources to empower, educate, and mobilize to enact deep, structural change.
Key Topics:
AJ shares his experience immigrating to the US from the Philippines a month before 9/11
How he gathered one million followers on his social media accounts his first year in 2015
Launching campaigns for progressive candidates who understand racial and social inequality and can uplift under-represented communities
Working with people under 30 who are new to politics
Colorism in the Filipino community
Experiencing racism towards Asian in elementary school
How racists use social media to recruit young white kids
How AJ responds to racist attacks in his social media, who he calls out and who he ignores
Racism towards Asians in the LGBTQ community
Being in a relationship with a white man and the racist comments by other white men
Reaching out to Black friends after the murder of George Floyd and understanding his own privilege
Stereotypes in the white LGBTQ community about people of color
Helping to get progressive candidates elected and why it's so urgent this election
Using social media influencing to build equality and stop injustice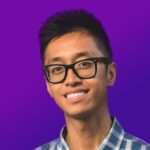 AJ Cartas is a social media influencer, entrepreneur, author, speaker, and mentor. He previously had over 1 million followers total on.his social media and have worked at Director-level positions at companies like ByteDance and Calm. He published his book, Startups & Downs, where he writes about his vulnerabilities and challenges when he dropped out of college to move to Silicon Valley. He is currently the CEO & Founder of a social media agency, Syzygy Social, and has a non-profit, Our Damn Time, that advocates for equality by supporting political candidates with progressive policies.
Founder & CEO
415-818-9710 (text)
Check out our Instagram for free social media growth hacks!