I'm joined in this conversation on race by Katara McCarty. Katara is an emotional well-being advocate for BIWOC (Black, Indigenous, Women of Color) She developed an app called Exhale for BIWOC to support their emotional well-being and manage their particular stress.
Key Topics:
• How Katara was born bi-racial (white mother and Black father) in 1972 and left by her mother in the hospital and then adopted and raised by a Black gay woman and her mother in 1972. Why she identifies as a Black woman instead of bi-racial.
• How systemic racism has resulted in stress, trauma, and life-threatening illnesses for Black, Indigenous Women of Color.
• Why Katara McCarty got involved in wellness after seeing that the wellness industry was primarily white.
• How she came to understand that the needs of BIWOC are different than white women who have not had the same trauma.
• How the killings of George Floyd, Ahmaud Arbery, and Breonna Taylor and the resulting trauma to Black, Indigenous, People of Color, and Femmes caused her to develop her app to deal with their stress and anxiety that white people don't have.
• How many coaching programs in organizations are geared towards white people with white coaches who are not conscious about racism and the issues that non-white people have to deal with to navigate the corporate environment?
 • What is in the app, meditations, breathwork techniques, coaching talks, and daily affirmations? They are in 45 countries.
• The need for everyone to practice anti-racism. Systemic racism is pervasive. How white people must play a key role in dismantling racist systems that they benefit from. What that will mean.
• Katara McCarty talks about the increase in her anxiety level, how the app helps her. The importance of people unpacking their own biases. She suggests people take the 20-day anti-racist challenge by Layla Saad.
• Suggested resource Me and White Supremacy by Layla Saad.
• Her Exhale app empowers Black, Indigenous, People of Color, and Femmes to do self-care and teaches them how to meditate, breathe and feel good.
• Advice to people who want to talk about race:
1- Do your own work.
2- Know yourself.
3- Don't ask Black people to be your teachers, or educate you.
4- Unlearn, learn and relearn about racism.
Tweetable Quotes:
"We have to create practices in our lives, to help manage the stress, anxiety, and trauma brought on by systemic racism, anti-blackness, micro aggressions, because it is killing us, there are resources to help us get that trauma, that stress, and that anxiety out of our bodies." – Katara McCarty
"Most of those people were white that were paying for my services. So went from 20 years of work. Working with people on the margins to now I'm a coach and I have an all-white clientele, which didn't resonate with my values and how I want to show up for my community." – Katara McCarty
Bio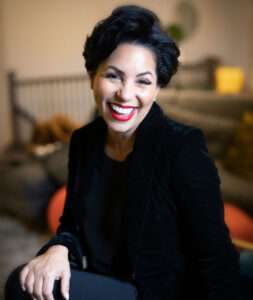 From out of the realities of abandonment by her biological mother, being bi-racial and growing up in a Black home, Katara McCarty realized early in life that the color of her skin mattered. After becoming a single mother at 19 and finding the courage to leave an abusive relationship, Katara became an entrepreneur holding leadership positions in both non- and for-profit organizations.
Today, Katara is a sought-after coach, author, and podcast host dedicated to cultivating brave spaces where all Black, Indigenous, Women of Color (BIWOC) belong. As a Black woman, she is committed to amplifying the richness of BIWOC and their stories, while also advocating for and providing emotional well-being resources for BIWOC, through her app EXHALE.