Omar L. Harris, former General Manager of GSK and Allergan, joins me in this conversation on race.  He has more than 20 years of experience as a global pharmaceutical executive. Omar is the founder and managing partner at Intent Consulting, a firm dedicated to improving employee experience and organizational performance. He is the author of "Leader Board: The DNA of High-Performance Teams", "The Servant Leader's Manifesto", and "Be a J.E.D.I. Leader, Not a Boss".
Omar shares his journey to the top, the cost to him as a Black man in America, and how he came to speak out and no longer compromise his identity and his beliefs.
Key topics:
Omar's first experience with racism was when he was voted Prom King of his high school in Louisiana. The principal told him that he was "allowed" to be the Prom King to "snitch" on the other Black students. Harris refused, stood up to the principal, and kept his title.
What happened when Omar L Harris met Ku Klux Klansman David Duke while in high school.
How he was the only Black product manager, the only Black Director of Marketing and the only Black General Manager outside of Africa, and the only Black General Manager of a global company in the world.
The psychic toll of assimilation and having to whitewash himself without even realizing it.
Why he now feels responsible for opening the doors for other Black people.
How he refuses to compromise his values and will always speak out against racism and discrimination of any kind.
Why people who are not Black don't understand the full gravity of racism and the dangers of working while Black.
Why white people who call themselves allies must be willing to speak out and take a stand with friends, family, and colleagues even if parts of their lives unravel as a result
How white allies can be more prepared to take action if they practice and prepare for different situations.
His books on leadership and how they are different than white leadership books. Why it's essential that every CEO needs to take action against racism, or they are not real leaders.
Check out his playlist, the TV shows he recommends, and the books he reads.
Bio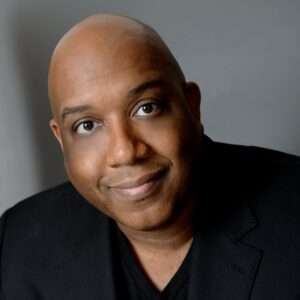 OMAR L HARRIS (Charlotte, NC, born in Pittsburgh, PA) is the founder of Intent Consulting and TYMPO.io (the world's first and best SaaS application for employee inclusion), a Former GM (GSK and Allergan), Business and Servant Leadership Thought-Leader, Speaker, Award-Winning Bestselling Author of 5 books, including "Be a J.E.D.I. Leader, Not a Boss: Leadership in the Era of Corporate Social Justice, Equity, Diversity, and Inclusion", June 25 2021, "The Servant Leader's Manifesto", 2020, and "Leader Board: The DNA of High Performance Teams", 2019). With 20+ years of global pharmaceutical executive experience building teams, Omar has worked on 4 continents (U.S., Middle East, Asia and Latin America) for Pfizer, Merck, Schering-Plough and more. As a Gallup Certified Strengths Coach, Motivational Speaker, Entrepreneur and Florida A&M University Alumni, Harris is passionate about leading teams, high-performance coaching, and inspiring the future leaders of today and tomorrow to adopt the servant leader mindset and stop toxic leadership behaviors.
Omar is also the Co-Author of "From Authors to Entrepreneurs F.A.T.E.: The Personal Side of Indie Publishing" (2015) and Author of "One Blood" fiction book (2011, pen name, Qwantu Amaru – currently being developed into a television series). Harris was a featured speaker at the 2021 International Institute of Leadership Conference with his compelling topic: "The End of the Boss – 7 Rules for the Modern Leader", a keynote speaker at the Leadership Harrisburg Area Graduation event, a featured speaker at the 2021 Rising Leaders Summit, a featured speaker at the BB21 Rise Conference, and a featured coach at the 11th annual WBECS Summit. His work has been featured by CNN HLN Weekend Express, WPXI-TV NBC Pittsburgh, Black News Channel, The Jewish Journal, The Beating Alpha Podcast, The Living Corporate Podcast, Real Leaders, SHRM Blog, Thrive Global, CEO World Magazine, Human Capital Innovations (HCI) Podcast, VoiceAmerica Business, Culture Stew and many more. As fun facts, Omar speaks 5 languages, plays 7 instruments, and started his first company at the age of 7.