Suhag Shukla joins me in this conversation on race to answer the question, "Is it racist to talk about race?" Suhag is the executive director of the Hindu American Foundation. She's also on the Homeland Security, faith-based security and communications Foundation. And she's a leading voice for civil and human rights and religious freedom.
Key topics:
[1.45] How she grew up straddling both a Hindu identity and an American identity and realizing that the core teachings of Hinduism and being an American fit together.
[5:11] The so-called "founding fathers" who didn't consider Black and Native American people full human beings.
[5:46] First experience with racism during the oil crisis in the 1970s and being "othered."
[7:51] Is caste and/or asking about caste racist? The history of caste and Indian society as well as the British and Portuguese in India.
[10:51] Social Identities, castes, and religious traditions
[12:11] Commonalities in communities and castes in India
How people in India identify today beyond caste, who has social capital based on class
[15:11] Myths of caste and the fluidity of castes and engagement across different group
The complexity of Indian society, and the assumptions that people outside of India make about people in India
American society tries to simplify economic and social societies in India without any real understanding
[25.48]  US school textbooks teach about other cultures and countries like they are stuck in time, and not what's happening now
People in the US don't understand Indian culture today and even asked Suhag if she has electricity in India if her parents arranged her marriage while she was in elementary school
Being assigned a caste by a reporter in a recent interview based on her last name and how she confronted the reporter
Preconceived notions about her. because of her Indian heritage and culture and asking racist questions
[33:13]  The recent survey by the Carnegie Endowment for peace, conducted one of the first-ever comprehensive surveys done of Indian Americans and Indian American attitudes
shows that with each subsequent generation, there's less and less affinity towards identifying by caste. And  when it comes to discrimination, close to 50% of the people responding out of 1000 people in the survey reported having faced discrimination in the year previously
[39:55] Institutionalizing of caste at Brandeis, Harvard, CSU and other universities. Suhag's view of why it is racist to ask about caste and include it in a protected category- that it has never been an issue in education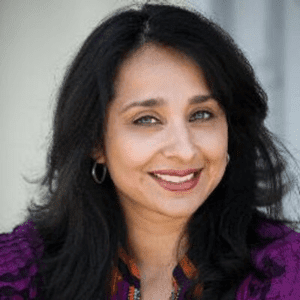 Guest Bio
Suhag Shukla, Esq., Executive Director, is a co-founder of HAF. She holds a BA in Religion and JD from the University of Florida. Ms. Shukla has helped steer the Foundation to being recognized as a leading voice for civil rights, human rights, and religious freedom. She's been instrumental in the development of a broad range of educational materials and position papers and blogs for a variety of platforms. Ms. Shukla has served on the Boards of the Nirvana Center, Main Line Indian Association, and YWCA of Minneapolis. She was also a member of the Department of Homeland Security Faith-Based Security and Communications Subcommittee. Ms. Shukla is actively involved with Chinmaya Mission, serves on the board of the Bhutanese American Organization of Philadelphia, and is a thought partner for the Interfaith Center of Greater Philadelphia's Paths to Understanding Public Art Initiative. Shukla is a member of the board for the National Museum of American Religion and serves on religious advisory committees for the Council on Foreign Relations, the Humane Society of the United States, and the Department of Homeland Security's Subcommittee for the Prevention of Targeted Violence Against Faith-Based Communities and is a member of the First Amendment Center's Committee on Religious Liberty and the United Nations Women's Gender Equality and Religion platform. Shukla was named one of twelve "faith leaders to watch in 2017" by the Center for American Progress.
Email: Info@HinduAmerican.org
Host Bio
Simma Lieberman, The Inclusionist helps leaders create inclusive cultures. She is a consultant, speaker and facilitator and the host of the podcast, "Everyday Conversations on Race for Everyday People."
Contact Simma@SimmaLieberman.com
Go to www.simmalieberman.com and www.raceconvo.com for more information
Simma is a member of and inspired by the global organization IAC (Inclusion Allies Coalition)