Karen Hunter, journalist and host of the Karen Hunter Show on Sirius XM and Dan Stedman, founder of the New Ed-Tech platform Pressto, join me in this conversation on race. They share how Black students in the US and the African diaspora, and other low income and young people of color are using Pressto to create their own newspapers and zines. This is one solution for young people to express their views and share real experiences with race, culture and diversity instead of consuming false information from biased media.
You'll hear how Karen had to confront her white editor at the Daily News about racial bias in their coverage of police shootings and how she convinced him to change his perspective.
Key topics: 
• Real news gathering has been replaced by algorithms and public opinion presented as fake facts. That includes how gaslighting, misinformation, and disinformation take the place of actual fact gathering, particularly in issues around race and racism.
• How Pressto gives young people hope and inspiration to be seen and heard, like how Daniela Fraser took out her phone and documented the murder of George Floyd.
• What does it mean to be white? Karen Hunter asks why people identify as white and foster the system of white supremacy. She talks about race as a social construct, and why she wants to dismantle the construct of race.
• Hunter's experience as a Black journalist with the Daily News when Amadou Diallo was murdered by police in his vestibule and how her editor wanted to glorify the police without knowing what happened. After she  asked her editor if that could happen in a rich white neighborhood, he allowed her to address the issues of racism. She talks about the murder of Eleanor Bumpurs, Sean Bell and others who were killed by police because they were Black
• Why Pressto can help young people of color and other kids be future journalists who get the truth out and share their stories.
• How Daniel Stedman created the EdTech software Pressto, because he was inspired to make learning fun for kids and spark them to be journalists of the future.
• The importance of diversity of ideas and bringing Pressto to the African Diaspora including Jamaica and Canada.
• Karen asks Daniel Stedman about what it means to be white, if he sees himself as white. Daniel talks about his strong identification about his Jewish culture and what it means to be white.
• The fact that the Nazi Nuremberg laws crafted their strategy from the Jim Crow laws in the US.
Listen to the episode with Karen Hunter and Daniel Stedman to hear about the future of journalism, dismantling systemic racism and other bias in the media and how white people can use and share the privilege they have to take actions against racism. 
Guest Bios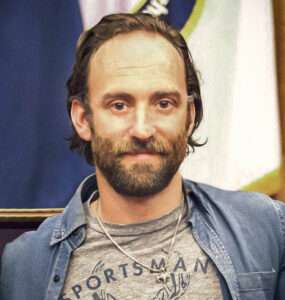 Daniel Stedman is the CEO & Founder of Pressto, a tool that makes learning to write fun for kids and easy for teachers. Previously, Daniel was the Founder of Northside Media (acquired), the parent company to Northside Festival, Taste Talks, SummerScreen and Brooklyn Magazine. He has spoken at CES, Orange Institute and SXSW and has been featured in the NY Times, New York Magazine, New York Observer, Huffington Post, and more. Daniel is a published children's book author and award-winning film director.
Karen Hunter is a Pulitzer Prize-winning journalist, professor, publisher and "change agent," according to Essence magazine, which named her one of the "Woke100" of 2018. She was also selected to the 2020 Ebony magazine's Power 100 List. As a writer, Karen has coauthored eight New York Times bestsellers. As CEO of Karen Hunter Publishing, an imprint of Simon & Schuster, she published more than 35 books, including No. 1 NYT bestseller True You by pop icon Janet Jackson, as well as bestsellers with Kris Jenner and E. Lynn Harris. Karen has been named one of the 100 Most Important Radio Talk Show Hosts in America by industry bible Talkers Magazine every year since 2015. A New Jersey native, a Drew University graduate, Karen has been a full-time professor and Distinguished Lecturer in the Film & Media Department at Hunter College in New York City since 2004. In 2020, during the pandemic, Karen launched Knarrative, which is home to the largest Africana Studies classroom in the world.
Simma Lieberman, The Inclusionist helps leaders create inclusive cultures. She is a consultant, speaker and facilitator and the host of the podcast, "Everyday Conversations on Race for Everyday People."
Contact Simma@SimmaLieberman.com
Go to www.simmalieberman.com and www.raceconvo.com for more information
Simma is a member of and inspired by the global organization IAC (Inclusion Allies Coalition)