In this conversation on race, I'm joined by Michael Fosberg. Michael is a writer, actor and activist on issues of race. He is also a Black man who didn't know he was Black until he was in his mid-thirties when his Armenian mother and white Swedish step-father got divorced. That's when he went on his journey to find his biological father. Until then, Michael thought he was white.
Listen to this fascinating conversation and hear the story of Michael Fosberg.
Key topics:
[6:27] How he found his father and then found out his biological father was Black.
[15:31] Growing up in a diverse area and thinking he was one of two white people on the basketball team.
[17:13] Why Michael's mother didn't tell him he was Black.
[20:27] His lifelong connection to Black people and African-American culture and sudden understanding of why he had that connection.
[31:21] What it's like for him, knowing he is Black but growing up with white privilege and how his skin color still gives him that privilege.
[41:35] Responding to people who say they are colorblind.
[46:28] Michael Fosberg answers the question of what to do about racism.
Guest Bio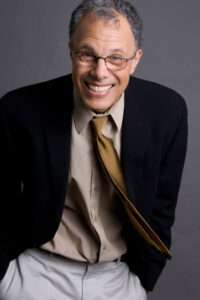 Chicago native Michael Fosberg has been working to create a national dialogue on race and identity since 2001 when he launched his one-man autobiographical play Incognito. The author-activist has used the unique presentation, along with engaging interactive training sessions and speeches, to embrace diversity in an effort to change corporate and organization cultures.
He has been a frequent guest in the national media speaking as an expert on race and identity issues. His travels have taken him across the country facilitating meaningful conversations at educational institutions, corporations, government agencies and military bases. His highly praised memoir; Incognito: An American Odyssey of Race and Self Discovery was published in 2011 and his newest book, Nobody Wants to Talk About It: Race, Identity, and the Difficulty in Forging Meaningful Conversations addresses his efforts to provoke conversations about race over the past fifteen years.
Contact info: info@incognitotheplay.com
Host Bio
Simma Lieberman, The Inclusionist helps leaders create inclusive cultures. She is a consultant, speaker and facilitator and the host of the podcast, "Everyday Conversations on Race for Everyday People."
Contact Simma@SimmaLieberman.com
Go to www.simmalieberman.com and www.raceconvo.com for more information
Simma is a member of and inspired by the global organization IAC (Inclusion Allies Coalition)