In this conversation on race, Simma talks with John Blake, a well-known author, and journalist with CNN. He reports on race, religion, and politics. His most recent book is, More Than I Imagined: What a Black Man Discovered About the White Mother He Never Knew
John Blake's story begins with a familiar narrative of a biracial child struggling to find their place in a racially divided America. But just when you think you know where the story is headed, a surprising twist throws everything into question. What happens when John meets his estranged white family members as an adult? Will he reject them as he did with his white heritage? Or will he embrace them, leading to a transformative journey of empathy and forgiveness? Join us as we explore John's journey of racial reconciliation and the power of relationships in bridging seemingly impossible divides.
Why Race Is Important
Race is a central theme not only in the personal lives of many individuals but also in the larger context of American society. Understanding the importance of race requires recognizing that it shapes people's experiences, opportunities, and challenges in significant ways. By talking about race and valuing the various perspectives and experiences that come from different racial backgrounds, people can grow in empathy, cultivate meaningful relationships, and foster a more equitable and just society. In the conversation between Simma Lieberman and John Blake, John shares that his own experiences growing up as a biracial child with a white mother and black father has had a profound impact on his life, shaping both his personal struggles and his professional pursuits as a journalist reporting on race relations in America. He emphasizes that race is a key element in understanding and addressing social issues and that acknowledging and embracing diversity can ultimately bring people together and create a better society.
In this episode, you will be able to:
Realize the potential of building bridges across racial divides for a more inclusive society.

Grasp the impact of compassion and pardoning in breaking the shackles of prejudiced thinking.

Appreciate how knowledge can be a catalyst for change in combating racism.

Understand the intricacies of racial outlooks and the space for growth and transformation.

Appreciate the value of purposeful diversity and interaction in minimizing bias.
The resources and solutions mentioned in this episode are:
Purchase John Blake's book 

More Than I Imagined: What a Black Man Discovered About the White Mother He Never Knew

Read John Blake's articles on CNN about race, religion, and politics

Participate in Simma Lieberman's facilitated dialogues to bring people together across race

Practice empathy and forgiveness towards individuals who may hold racist attitudes or beliefs

Read books by authors like Ibram X. Kendi and John Blake to educate yourself on race and racism

Take action towards creating a successful multiracial, multireligious democracy by working towards racial justice and equality in your community.
The key moments in this episode are
00:00:02 – Introduction
00:01:53 – Why Race Is Important
00:03:54 – Discovering His Mother's Race
00:05:49 – Meeting His Mentally Ill Mother
00:11:02 – Lessons About Empathy and Forgiveness
00:15:52 – The Importance of Relationships in Combating Racism
00:17:47 – The Need for Intentional Diversity
00:19:19 – Telling Optimistic Stories
00:21:57 – The Continual Conversion Process
00:26:45 – Creating Opportunities for Meaningful Contact
00:30:28 – Importance of Diversity in Communities
00:34:52 – The Capacity for Change in Racism
00:37:57 – Cancel Culture and the Importance of Listening
00:41:01 – Personal Music and Book Recommendations
00:42:08 – Recommended Readings and Eric Liu's Work
Guest Bio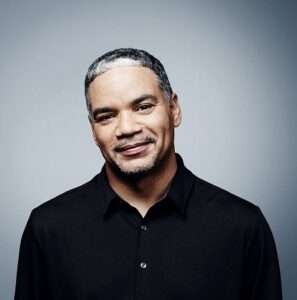 John Blake is an award-winning journalist at CNN.com, the online site for CNN and an author. He has been honored by the Associated Press, the Society of Professional Journalists, the American Academy of Religion, the National Association of Black Journalists, the Religion Communicators Council and with the GLAAD Media Award. He was most recently the winner of the 2019 Sigma Delta Chi awards for Excellence in Journalism for his online columns on race and politics. His 2020 essay, "There's One Epidemic We May Never Find a Cure For: Fear of Black Men in Public Spaces," was recently selected by Bustle Digital Group as one of the 11 best essays on racism and police violence. The other authors on that list included Ta-Nehisi Coates, Ibram X. Kendi, and Roxane Gay. Blake's book, "Children of the Movement," was a finalist for the 2005 NAACP Image Awards in the Outstanding Literary Work Non-Fiction category and a finalist for the Gustavus Myers Outstanding Book Awards. He has spoken at high schools, colleges, symposiums, and in documentaries about topics such as race, religion, and politics. Blake is a native of Baltimore, Maryland, and a graduate of Howard University.
Host Bio
Simma Lieberman, The Inclusionist helps leaders create inclusive cultures. She is a consultant, speaker and facilitator and the host of the podcast, "Everyday Conversations on Race for Everyday People."
Contact Simma@SimmaLieberman.com
Go to www.simmalieberman.com and www.raceconvo.com for more information
Simma is a member of and inspired by the global organization IAC (Inclusion Allies Coalition) 
Connect with me:
Previous Episodes
Loved this episode? Leave us a review and rating