In this Conversation on Race, I'm joined by Pam Grimm, who talks about her experiences as a  a Black woman in the fitness world. She's 62 years old, has been teaching fitness since she was in her 50's and says it's never too late to get in shape. In this episode, she shares why getting shape is so important for everyone, and especially women of color.
Pam has been in recovery from drug addiction since 1993. In 2013, she decided to focus on fitness. And I'm telling you, this woman is fit.  She is the author of two books,  "#empowered: 90 Days of Enlightenment" which offers encouragement and spiritual inspiration, and #empowered: A Gratitude and Affirmations Journal
She is a certified personal trainer with the International Sports Sciences Association, a certified Group X Instructor, and a certified lifestyle wellness coach.
Key topics:
Her story of recovering from drug addiction
Her journey from drug addiction to fitness instructor
Women and fitness
How to get fit in the virtual world
Her motto "Don't let your head tell you what you can't do"
How to get your body to move
Her thoughts on being a Black woman in her 60's teaching fitness
Black women and body image
Why getting in shape is revolutionary for women, especially women of color
Health care disparities and medical myths about Black people
How self-care is a weapon against racist medical policies
How to get started now even during Covid
About Pam Grimm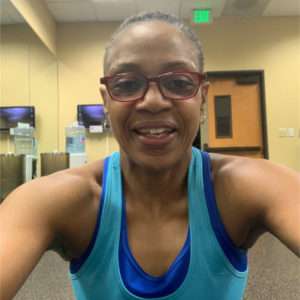 Pam Grimm is a corporate fitness instructor and currently teaches classes for corporations and individuals.
She is  also a personal trainer and a health & wellness coach. Her training focuses on strength, flexibility and balance in order for her clients to become the best version of themselves.
Contacts