When Greg Jenkins, Nirupa Netram, and Elinor Stutz, three colleagues and members of the Inclusion Allies Coalition, come together to discuss the importance of talking about race, they are confronted with their own diverse backgrounds, a goal to support those impacted by racism, and a central conflict between silence and open dialogue.
"It is important for us to understand that race is a very Western idea, but in the context of those parts of the world where race is an understood terminology to understand the effects of race and racism is important for us to, in the case of the IAC, help us understand people that are suffering because of the negative impacts of racism." – Greg Jenkins
Greg Jenkins is an older, white, straight male of Catholic upbringing who spent 28 years in the US Army and has been a diversity, equity, and inclusion consultant for the last 17 years. Nirupa Netram is an attorney and consultant of Indian descent and Hindu faith. Elinor Stutz is a Jewish woman, a best selling author, and the founder of Smooth Sale,
Greg, Nirupa, and Elinor, along with Simma, are colleagues and members of the Inclusion Allies Coalition. Each of them has a different cultural background and provides their own perspective on the importance of talking about race and the value of the Inclusion Allies Coalition. Elinor shares the story of her family's experience and her own experience in corporate. They explain why it is important to have conversations about race, speak out against racism and stand together with people who are different. The Inclusion Allies Coalition provides a safe space for entry into conversations about diversity, equity, and inclusion, and a way to connect with people from all around the world.
The Inclusion Allies Coalition brought together three colleagues and friends with a variety of cultural backgrounds. They discussed the importance of having conversations about race and the value of those conversations.
In this episode, you will learn the answers to the following:
How does being a member of the Inclusion Allies Coalition promote diversity, equity, and inclusion?
What challenges have been experienced by those who have been negatively impacted by racism?
How can people become more open to learning from those who are different?
Key Topics:
[00:45]
Three members of the Inclusion Allies Coalition appear on this week's podcast. Each person will give you two minutes, two sentences about themselves. They will give their name, their cultural background.
[03:09]
"Why do you think it's important to talk about race today?"
We can't have silence now because you're going to call on us. Why is it an important conversation? Well, these are discussions that are happening globally in response to so many issues.
[04:48]
Elinor Stutz was raised not to talk about being Jewish because her family were holocaust surivors. She says antisemitism is on the rise and so is racism. It's important for groups to stand together and to really speak out together.
[09:02]
The Inclusion Allies Coalition brings together people from all over the world. They are  advocates for people that may be suffering, or negatively impacted by the topics that we're referring to here.
Greg finds value in networking with other colleagues that are trying to do good things in their world.
[11:09]
Being an IAC member allows you to gain access to global practitioners who support and take action to build inclusion.
Elinor shares what it means to her to meet so many people who diverse in so many ways.
[19:24]
When Elinor was growing up, her grammar was half English and half Yiddish. She felt weird all the time. People always told her she was weird.
[22:23]
Nirupa: "I was very lucky growing up. It wasn't until I moved to the US that I began to experience the negative aspects of race and racism." She says she would walk into stores and be ignored or looked at a certain way. Nirupa believes people are fundamentally good and capable of change.
[27:07]
Simma ask Nirupa, "Do you think younger generations are more accepting of Diversity, Equity and Inclusion, or it's still the same?"
Nirupa "I would like to see the future in upcoming generations, that they are more inclusive. I again believe people are well intended and capable of change."
[31:13]
Nirupa: "Inclusion Allies Coalition is an important place in that we can have conversations that we don't have normally. For some folks, like maybe the ones that you're referring to in Charlottesville, that frightens them. We have to create spaces to have the conversations."
[33:35]
Simma: What would you like your friends to do to show support for you?
Nirupa: I think just maybe us openly talking about it, and sharing ways that they can be an ally to me. I find talking through scenarios that negatively impact us really help.
[36:41]
Gregory: "We need to acknowledge what has happened so that it's not glossed over".
Elinor: I hope that we will become more united and this crime wave based on race and antisemitism as well as toward other groups will end.
[42:17]
Greg: "For your listeners there's the 4D Tool. The four DS are delay, distract, delegate and direct. Research showed that oftentimes when people see something happening, they don't know what to do. We do have to stand up, which is why we have inclusion allies."
[45:39]
Simma: "Share either a movie. film or TV show, or a song that reflects what's going on today around race and differences or allyship. For each of you, I want to know, do you have any?
Guests Bio
Greg Jenkins is a dedicated and passionate leader, facilitator, coach, and mentor dedicated to helping people and teams achieve higher levels of performance.  Greg completed a successful 28+ year US Army career that ranged from overseas duties in Germany, South Korea, and combat duty in Iraq to include several stateside assignments culminating in Washington D.C.  While serving at the Pentagon, Greg teamed up with the Army's Diversity Task Force, and worked directly with the Secretary of the Army and Army Chief of Staff to help establish the Army's Diversity program, policies, and marketing.
Now spanning over three decades from military service to professional corporate consulting, Greg has trained, facilitated, mentored, and coached countless military service members, corporate employees and executive leaders of various industries including the Federal Government, US military, finance, insurance, communications, logistics and retail services.  Greg is a passionate veteran volunteer who enjoys actively mentoring and coaching business professionals, US military service members, veterans.
Social Media Links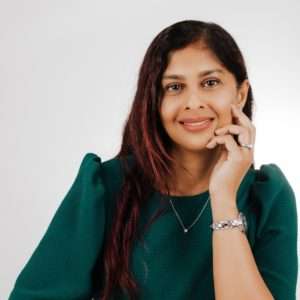 Nirupa Netram is an Indian female immigrant attorney and certified diversity, equity, and inclusion (DEI) in the workplace professional with more than two decades of experience in multiple sectors, including the corporate, nonprofit, government, and legal sectors, in the areas of DEI, human resources, program management, strategic planning, operations, compliance, and more. Nirupa earned her bachelor's degree in business administration from Stetson University and her juris doctorate from Stetson University College of Law. She is the founder of Lotus Solutions LLC, a Florida-certified woman and minority-owned enterprise that helps local, national, and international organizations build and sustain DEI to ensure a fair and just workplace.
Elinor Stutz, CEO of Smooth Sale, delivers inspirational keynotes at conferences and authored three books: The International Best-Selling book, "Nice Girls DO Get the Sale: Relationship Building That Gets Results", and her second best-selling book is "HIRED!" The third book, The Wish: A 360 Business Development Process to Fuel Sales provides a comprehensive plan for building a global audience.
Kred ranks Stutz as a Top 1% influencer; CEO World Magazine named Stutz as one of "The brightest sales minds to follow on Twitter" and she was featured on the cover of the March 2015 Sales and Service Excellence e-Magazine. Stutz' blog is distributed among corporations and entrepreneurs alike. Both Bizhumm and NowISeeIt named the Smooth Sale Blog as one of the "Top 100 Most Innovative Sales Bloggers." Her sales seminar was filmed for Eduson.TV. Stutz consults and speaks worldwide.
Host Bio
Simma Lieberman, The Inclusionist helps leaders create inclusive cultures. She is a consultant, speaker and facilitator and the host of the podcast, "Everyday Conversations on Race for Everyday People."
Contact Simma@SimmaLieberman.com
Go to www.simmalieberman.com and www.raceconvo.com for more information
Simma is a member of and inspired by the global organization IAC (Inclusion Allies Coalition)
Resources:
IAC (Inclusion Allies Coalition)
Other episodes you'll enjoy:
Black Fatigue with Mary Frances Winters
Kamau Bell and Kate Schatz; Do the Anti-Racist Work
How to End Racial Bias in Media with Karen Hunter and Daniel Stedman
Connect with SIMMA:
Loved this episode? Leave us a review and rating